Push for biogas in Kenya asks women to get their hands dirty
(Read article summary)
Women are among those being trained as masons to install biogas digesters in Kenya, providing households with cheap, clean energy and helping to slow climate change by replacing wood, gas, or kerosene.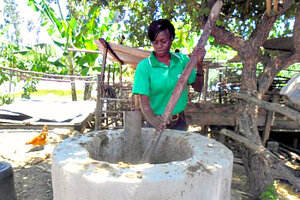 James Karuga/AlertNet
Lydia Owenga is a rarity among young career women in Kenya – a trained installer of biogas systems who doesn't mind getting her hands dirty.
She is at ease doing masonry and ensuring her farmer clients mix cow dung and water in the right proportions. Nor does she shy away from handling manure or concrete when checking whether a biogas digester is working properly.
Owenga, 27, runs her own company and is passionate about providing African households with clean energy, and helping slow climate change in the bargain.
Biogas, produced from the bacterial breakdown of animal waste in airtight containers, is used mainly for cooking. It can replace wood, gas, or kerosene, and reduce deforestation, which is a big problem in rural Kenya.
Ms. Owenga is one of fewer than 40 women among 560 Kenyans trained to build biogas systems under the Africa Biogas Partnership Program (ABPP). The project is funded by a 30 million euro ($39 million) grant from the Dutch government and uses technical expertise from SNV, a Dutch development organization.
The ABPP network has installed more than 25,000 biogas digesters since 2008 in five countries: Ethiopia, Kenya, Tanzania, Uganda, and Burkina Faso, with a target of 70,000 by the end of 2014.
Caroline Toroitich, SNV's senior renewable energy adviser, says around half the 2,000 biogas digesters built in Kenya since the 1950s had stopped working by 2008, mainly because they were poorly built and maintained.
---