Law student Yasmene Mumby already is a veteran education reformer
(Read article summary)
In a feat of tenacity and organization worthy of a veteran leader, young law student Yasmene Mumby helped push passage of $1.1 billion in funding to improve Baltimore's schools.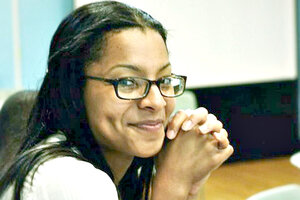 Matthew Stern
Just a few weeks ago, Baltimore residents celebrated the passage of an unprecedented $1.1 billion financing plan to rebuild and renovate city schools. Leading the charge to make this happen was the Baltimore Education Coalition (BEC), a partnership of more than 25 schools, organizations, and religious institutions comprised of 3,000 parents, students, teachers, administrators, and community leaders.
It was a feat of organizing tenacity worthy of a veteran education advocate. So you might be surprised to learn that a primary player behind this coup was a 26-year-old educator and law student, Yasmene Mumby. I say "might be surprised" because if you already know Yasmene, then you know that she gets the job done!
Yasmene, along with her BEC co-Chair, Jimmy Stuart, were able to galvanize the collective passion and commitment of this community and affect meaningful change. That ain't easy to do.
My challenge with this intro is that I need to keep it succinct, yet I could go on and on about Yasmene and all of her accomplishments. So in the interest of brevity, I now present Yasmene's prolific résumé in the length of a single tweet: Cochair @becforourkids, Dir. Cmty-Engagement @KIPPBaltimore, founder Team ORGANIZE, co-founder @theintersection, student @UMDLaw #driven
Who said tweeting can't be an expressive form of prose?
Yasmene is a Baltimore girl through and through. A graduate of The McDonogh School, The Johns Hopkins University, and now a student at The University of Maryland's Francis King Carey School of Law, she is using her excellent education to ensure that "all children in Baltimore City receive an excellent education."
---