In isolation, Gazans dismiss Bush's new push for peace
The strip's Islamist leaders have called for protests Wednesday against Bush's first trip to Israel and the West Bank.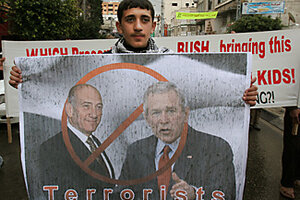 Adel Hana/AP
As Israel and the Palestinian Authority gear up for President Bush's first visit to the Jewish state and the West Bank, in which the president is expected to nudge along a hoped-for peace deal between the two sides, many residents of the isolated Gaza Strip are looking on with anger and cynicism.
This densely populated coastal territory has been largely shut off from the outside world since Hamas, the Islamist militant group that the US and Israel consider terrorists, seized control from their rival Fatah here in June.
Now Gazans are coping with frequent blackouts, high inflation, and surging unemployment as an Israeli blockade continues to stop fuel and general shipments from reaching the strip.
In addition to the economic and political segregation here, many say they are not only being cut out of the peace push launched by the November Annapolis, Md., summit, but that any deals between Palestinians in the West Bank, under the helm of President Mahmoud Abbas, and Israel will only make their lives worse.
"The intention of the US and Israeli blockade is to make me and my family suffer, so we'll withdraw our support for Hamas," says Salam Abu Salam, who runs a small tire repair shop in Gaza City's Jabaliyah neighborhood and says his income has fallen by three-quarters in the past six months, to about $15 a day. "But I didn't support Hamas to begin with. Now I see Abbas sitting down with America and Israel while Hamas continues to struggle for Palestinian rights. Who do you think I prefer?"
---