Gaza tunnel smugglers stay busy
Alleged weapons smuggling in tunnels underneath the Egypt-Gaza border has become a major sticking point amid President Bush's new push for peace in the Middle East.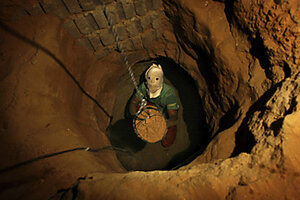 Kevin Frayer/AP/File
A visitor to the Palestinian border with Egypt completely ignorant of the problems of this part of the world might imagine for a moment that the Gaza Strip is home to a species of giant and unusually industrious ant.
In dozens of spots along the narrow swath of land between the Palestinian town of Rafah and the metal fence that marks the Egyptian border, the region's sandy soil is piled high in crescents that fan out from holes leading underground.
This is the work of hundreds of Palestinian smugglers who maintain Gaza's only independent lifeline to the outside world and who are frustrating Israel's efforts to seal off the strip from all but the most basic humanitarian trade.
Though weapons and other goods have been smuggled through the cramped subterranean network for more than two decades, never have the signs of smuggling activity been so obvious or Israel's frustration with the business so great.
With Israeli claims that the tunnels are a conduit for weapons, the smugglers' role in the Gazan economy and conflict have become a major obstacle to President Bush's new push for peace in the region. The administration has promised to put more pressure on Egypt to shut down the tunnel network.
But it's not clear how much in the way of weapons is currently coming through the tunnels.
Less weapons, more cigarettes
---