Is a third intifada brewing?
Many Palestinians say they do not want to return to the regimen of daily violence.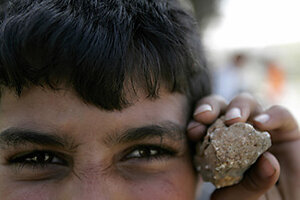 Abbas Monani/AFP/Getty Images
Fadi al-Amour and his friends – high school seniors – spent more time last week on the street than in class. Every day, they marched on Rachel's Tomb, guarded by Israeli soldiers, and, along with hundreds of other young Palestinians, pelted the nearest symbol of Israeli power with rocks and Molotov cocktails.
"We were implementing what our leaders in the prisons tell us we should be doing. Even Marwan Barghouthi has warned that this is where we're going: the third intifada," says Mr. Amour, mentioning the Fatah figure jailed by Israel in 2002 for his role in the last intifada, which lasted from 2000 to 2004.
From Gaza rocket strikes and West Bank riots to a deadly shooting inside Jerusalem late last week, many Palestinians are saying – or perhaps hoping – that these incidents of violence will spark a new, much broader conflict with Israel.
Those who are encouraging a further escalation say it's overdue. Others, including many who remember the misery of past intifadas, worry that this will just drag the Palestinian cause down a dead-end street.
"There might be an escalation in the coming weeks and months, and an escalation has already been going on in Gaza in recent weeks and months," says Ali Jarbawi, a political scientist at Birzeit University, near Ramallah.
---