Anger follows the fight with Sadr's militia
Residents of Sadr City, Moqtada al-Sadr's Baghdad stronghold, said they felt 'caught in the middle' of the battle between Sadr's Mahdi Army and US and Iraqi forces.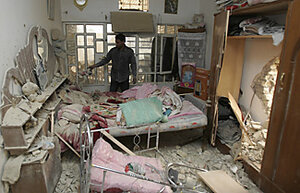 Kareem Raheem/Reuters
"The Charge of the Sadrs" is spray painted in black all over the numerous Iraqi Army and police checkpoints now abandoned in eastern Baghdad's Shiite neighborhoods.
The graffiti mocks Prime Minister Nouri al-Maliki's security operation – "The Charge of the Knights" – launched in Basra, the southern Iraqi oil city, last week that put Iraqi and US forces in direct confrontation with Moqtada al-Sadr's Mahdi Army in the capital and across the south.
On Monday, one day after the Shiite cleric's call for a truce following the battle that killed hundreds of people and wounded scores of others, several conclusions are clear.
Mr. Sadr has demonstrated his power, despite the blows dealt to his movement over the past few years. The government spokesman, Ali al-Dabbagh, thanked him profusely on Monday for his decision, but vowed that the fight would continue in Basra, where militiamen have now largely melted away from the streets, but remain very much in control of their strongholds.
"It's the same old ending," says Juliana Dawood, a Basra resident, referring to previous battles with Sadr's Mahdi Army in 2004 that have finished with similar truces.
---