Marines face last insurgent stronghold in Iraq's Anbar Province
While the Sunni heartland has largely turned against Al Qaeda in Iraq, insurgents are still doing battle in the 'wild' reaches of the province.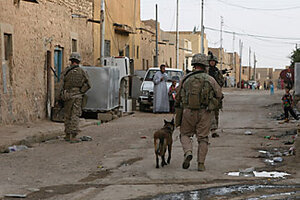 ZUMA Press/Newscom/File
COMBAT OUTPOST NORSEMAN, Iraq
The marines of India Battery of the 3rd Battalion, 11th Regiment jokingly referred to the first half of their deployment to Anbar Province as a "desert spa" experience.
After serving early in the war as the insurgency's engine, the largely Sunni province seemed to have been tamed after the US helped turn tribal leaders against Al Qaeda in Iraq elements there.
It was a success story that Gen. David Petraeus held up as a "model" for the country in congressional hearings last September. And on Tuesday, as General Petraeus returns to Washington, he is likely to be asked about recent turmoil in Iraq's Shiite south – not the relative calm in its western Sunni heartland.
But as the marines of the 3/11 have learned since their deployment shifted to Anbar's desolate western reaches, all is not yet tranquil in the province.
Early last month, the Twentynine Palms, Calif.-based artillery battery moved into an outpost of sandbags and concertina wire where marines are fighting what they call the last insurgent stronghold here.
---
Follow Stories Like This
Get the Monitor stories you care about delivered to your inbox.