U.S. hopes to counter Mahdi Army's clout in Baghdad
American forces in Iraq announced Monday ambitious public-works plans to win support in Sadr City.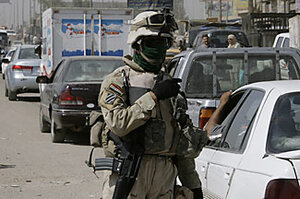 Karim Kadim/AP
The US military continues to go after Shiite militiamen in an effort to quell the deadly rocket-fire that has been hitting the Iraqi capital's fortified Green Zone with increasing accuracy. On Sunday night it killed six gunmen in eastern Baghdad after American soldiers were attacked with rocket-propelled grenades.
But while clashes carry on with Moqtada al-Sadr's Mahdi Army militia, which the US says is responsible for unleashing the salvo of rockets and mortars targeting American and Iraqi government buildings, US military officials are putting out feelers to Mr. Sadr's associates.
They are reaching out to elements within his militia that they could possibly work with to end the violence and are launching public-works projects designed to win over local hearts and minds inside Sadr City, the Mahdi Army's main Baghdad stronghold.
"At my level, I'm seeking engagement with individuals that are willing to work with us for the purpose of supporting stability and meeting the needs of the people," says Major Gen. Jeffery Hammond, commanding general for Multi-National Forces in Baghdad.
The US says it has been able to reduce the rocket fire that has killed a number of civilian and military workers in the Green Zone to levels experienced before the government of Prime Minister Nouri al-Maliki launched an assault on the Shiite militias in late March that sparked a major battle in Basra that spread to Baghdad.
---