Palestinian festival of dance – and debate
The third annual Ramallah Contemporary Dance Festival showcases the growing cultural split between the West Bank and the Gaza Strip.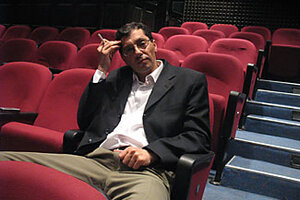 Joshua Mitnick
Though they were delayed eight hours at the Israeli border, dancers from Belgium's Les Ballets C. De La. B. company eventually made their way to Ramallah's Al Kasba Theatre where they writhed, staggered, and lunged across the stage.
But the Israeli security restrictions on the contemporary dance company were only part of the headache for the third annual of the Ramallah Contemporary Dance Festival. For the first time, the festival has drawn fire from the religious authorities of Hamas – highlighting how the split between the Gaza Islamists and the Ramallah-based Palestinian Authority (PA) has exacerbated a Palestinian culture clash.
In an article published on Hamas's website, the director general of the Islamic Waqf in Gaza, Saleh al-Rakab, called said that the festival "damages" the Palestinian cause and wastes money that should go to impoverished Gazans suffering from Israel's economic blockade.
"This festival is a black stain and a disgrace to everyone involved in it, Mr. Rakab wrote. While Hamas is immersed in "holy" work, the festival is "ridiculous and marginal.… Who has the head for something like this?"
---