Nuclear report: parsing Iran's intent
As UN nuclear watchdog meets in Vienna, sparring is sharp over Iran's goals for its program.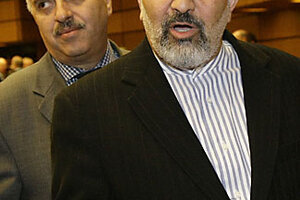 Iran's nuclear intentions are under increasing scrutiny as diplomats and technical experts of the United Nation's atomic watchdog agency meet in Vienna this week.
The latest report on Iran by the International Atomic Energy Agency (IAEA) provides ammunition to all sides, at once bolstering arguments led by the US and Israel that Iran has been bent on building nuclear weapons, while confirming Tehran's adherence to safeguard measures.
But the IAEA's technical report and the interpretations of its findings are spinning into an overheated strategic standoff between Western nations, Israel, and Iran that, analysts say, may become reason for a military strike against Iran.
Even as Europeans expect to offer Iran an upgraded incentive package to suspend uranium enrichment in the coming weeks, analysts say that cherry-picking of quotes and Western spin, coupled with "breathless" media reporting about Iranian recalcitrance, could point in a nondiplomatic direction.
Rhetoric ratcheted higher this week, with US Secretary of State Condoleezza Rice on Tuesday warning that "for the sake of peace, the world must not allow Iran to have a nuclear weapon." Israeli Prime Minister Ehud Olmert, speaking to the same pro-Israel lobby group, AIPAC, in Washington, said "the Iranian threat must be stopped by all possible means," adding that it was a global "duty" to take "drastic measures" to prevent it.
---