Kuwait's empowered Islamists question all things Western
After an Islamist victory in Kuwaiti elections, lawmakers' new agenda reflects a regional debate over the pace of social change as economies surge.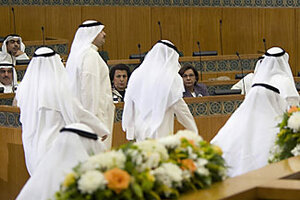 Stephanie McGehee/Reuters
They want to outlaw Xboxes and ban Christmas, do away with the Arab world's version of "American Idol," and keep female drivers off the roads.
Kuwait is seeing a surge in conservative Islamist legislative proposals just one month after the country's Salafi Islamists and tribal candidates gained a majority in its National Assembly. With 29 out of 50 seats, this newly empowered bloc appears to be testing its political capital and could succeed in making an already conservative country even more socially strict.
Their drive comes as the Gulf region debates the pace of social development in a tug of war between traditionalists and modernists. While the oil boom brings in a flood of Westerners and their ideas, traditional local societies are increasingly questioning how much change they'll accept along with the economic surge.
Foreigners now account for 12.5 million people, or nearly half of the 33 million population in the six Gulf Cooperation Council (GCC) member states: Bahrain, Kuwait, Qatar, Oman, Saudi Arabia, and the United Arab Emirates.
---