How Iran would retaliate if it comes to war
Military analysts say the Islamic Republic would strike back in unconventional ways – targeting American interests in Iraq and Afghanistan.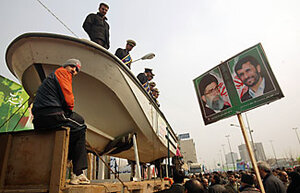 Mohammad Kheirkhah/UPI/NEWSCOM
Pressure is building on Iran. This week Europe agreed to new sanctions and President Bush again suggested something more serious – possible military strikes – if the Islamic Republic doesn't bend to the will of the international community on its nuclear program.
But increasingly military analysts are warning of severe consequences if the US begins a shooting war with Iran. While Iranian forces are no match for American technology on a conventional battlefield, Iran has shown that it can bite back in unconventional ways.
Iranian networks in Iraq and Afghanistan could imperil US interests there; American forces throughout the Gulf region could be targeted by asymmetric methods and lethal rocket barrages; and Iranian partners across the region – such as Hezbollah in Lebanon – could be mobilized to engage in an anti-US fight.
Iran's response could also be global, analysts say, but the scale would depend on the scale of the US attack. "One very important issue from a US intelligence perspective, [the Iranian reaction] is probably more unpredictable than the Al Qaeda threat," says Magnus Ranstorp at the Center for Asymmetric Threat Studies at the Swedish National Defense College in Stockholm.
---