Militant Hamas as reluctant moderator
Can Gaza's ruling militants keep other armed groups from spoiling a six-month cease-fire with Israel intended to improve life in the impoverished coastal strip?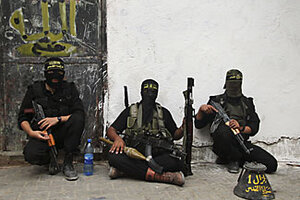 Ashraf Amra/AP
Hamas, which for more than 20 years has been the Palestinian militant movement that most fervently rejected peace with Israel, today finds itself in the odd position of being the group trying to get its comrades in arms to hold their fire against the Jewish state.
But the week-old truce – agreed upon between Israel and Hamas and contingent on Gaza's disparate armed factions keeping their guns quiet – looked closer to crumbling Thursday after militants again fired rockets into southern Israel. The Al Aqsa Martyrs Brigade struck Thursday two days after an attack by another group, Islamic Jihad.
In response, Israel has kept its crossings with the Gaza Strip shut, which it had opened to allow in much-needed goods, indicating that both sides were reneging on promises made in the Egyptian-brokered deal.
Late Wednesday night, leading Hamas official Siad Siyam gathered members of all the different militant factions at the Interior Ministry in Gaza, Palestinian sources say, and tried to impress upon them the need to keep the truce – or face more serious consequences.
But it's unclear just how far Hamas can – or will – go to stop the rockets from flying over the border and maintain the shaky truce, which skeptics on both sides say will soon unravel.
---