Palestinian hostilities flare in Gaza
Explosions and a Hamas-led crackdown on the rival Fatah Party has raised tensions to their highest levels since Hamas seized control of the Palestinian territory in 2007.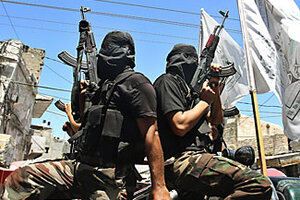 Hatem Moussa/AP
In the worst outbreak of inter-Palestinian strife since Hamas took over the Gaza Strip last year, Hamas gunmen rounded up hundreds of Fatah activists in Gaza and threw up dozens of checkpoints over the weekend.
The militant Islamist group accused militants from the rival Palestinian leader Mahmoud Abbas's Fatah Party of a bombing that killed five Islamic activists and a young child last Friday.
The attack and retaliation reopened recent wounds in the bitter rivalry just as the sides were mulling a new round of reconciliation talks.
"There is no room now to speak about national reconciliation," says Hamas leader Mahmoud Al-Zahar, who accused Abbas of preferring to discuss US peace talks with Israel rather than the internal Palestinian talks. "[Abbas] is still meeting [Israeli Prime Minister Ehud] Olmert and kissing him.... His preference is the Israel-US side not the Palestinian side."
Abbas, who was in Cairo on Sunday for talks with Egyptian President Hosni Mubarak, condemned the Friday bombing and denied Fatah involvement.
---