Olmert plows ahead on peace talks
Israeli prime minister resigns from his post, but vows to pursue a deal with Palestinians and Syrians.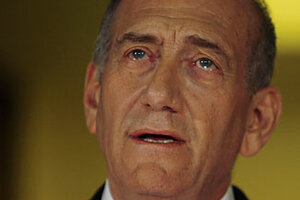 Eliana Eponte/Ap
Peace talks between Israelis and Arabs are on hold until further notice.
That's the conventional wisdom in the wake of Israeli Prime Minister Ehud Olmert's announcement Wednesday that he'll resign: He's a lameduck leader with no leverage.
But Mr. Olmert is charging full-speed ahead, say analysts and aides, although his persistence in pursuing a peace deal with the Palestinians and the Syrians appears to be as an eleventh-hour attempt by the disgraced prime minister to recast his political legacy.
Still, the question remains: Will his efforts be taken seriously in the Middle East, the United States, or in his own country?
"He wants to leave a legacy," says Yossi Alpher, coeditor of the Israeli-Palestinian Web journal Bitterlemons.org. "The ordinary profile of someone in his position is of a caretaker. But he might behave differently. He might feel more liberated."
Olmert might also have considerably more time beyond his party's September leadership contest, the date he set for his resignation. At that point, he'll become the head of a transition government, retaining all the powers of prime minister theoretically for months afterward – but only if a Kadima Party successor fails in winning a vote of confidence in parliament and is forced to a general election.
An unnamed official close to Olmert told Reuters on Thursday that the prime minister plans to pursue an agreement with the Palestinians before he leaves office – and he said as much in his resignation speech.
---