New sports center helps Iraqi youths opt out of insurgency
With US Army support, the Adhamiya Sports Center in Baghdad helps kids become athletes.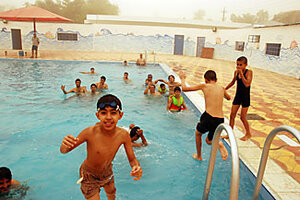 Tom A. peter
As the residents of Baghdad enjoy a newfound quiet, some Iraqis are hoping that sports can help keep the peace. Former Iraqi athletes have opened a sports center for the youths of the Adhamiya neighborhood that they imagine will work much like the US inner-city sports programs that have helped reduce crime. But the Adhamiya Sports Center isn't worried about small-time criminal street gangs; it's trying to keep young men out of violent extremist groups like Al Qaeda, which recruits heavily in the area.
For just over a year, the Adhamiya Sports Center has offered programs in soccer, weight lifting, basketball, wrestling, and – since opening a pool in July – swimming. All activities are free, except for the swimming pool, which charges about $2.50 for a two- to three-hour pass. Each week, the center attracts between 700 and 1,000 young people.
In the midst of Iraq's present turmoil, investing in a sports complex may seem extravagant, but athletics have proven to be a powerful unifier here. During some of the most bitter fighting, the victory of the Iraqi national soccer team in the 2007 Asia Cup brought a moment of peace in which Sunnis, Shiites, and Kurds celebrated together.
Farouk Chanchoon, a former Olympic boxer and board member at the center, hopes to encourage future international champions.
"I want to make them good enough for the Olympics, but more importantly I want them to see the world," says Mr. Chanchoon. "And if they can't be professional athletes, maybe they can coach, or become team managers, or pursue another career in sports."
---
Follow Stories Like This
Get the Monitor stories you care about delivered to your inbox.