Can Iraq's new calm hold?
Improved security has boosted optimism, but US commanders want to be assured it is "irreversible."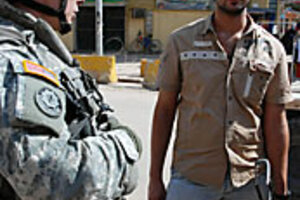 Tom A. Peter
After more than a year of taking a wait-and-watch approach to the surge of US forces in Iraq, military commanders and independent experts now seem more confident that it could be the beginning of the end for the insurgency in Iraq.
If this month's trend holds, July could see fewer American fatalities in Iraq than any other month since the war began in March 2003.
"This is the way insurgencies end," said Jack Keane, a retired four-star general who recently returned from Iraq, at an event in Washington last week. "They just sort of fade away."
But elation about the improved security is tempered with lingering concerns about whether the relative calm in Iraq can become more permanent.
Top US commanders have said the surge of forces will have met their goals only if the improved security on the ground is "irreversible." The fear remains that the gains could all slip away if the Iraqi government doesn't cement the progress with political reconciliation on key issues and an increased level of governance.
The Government Accountability Office warned earlier last week that with the new- found security in Iraq, the US now needs a new strategy. The report noted that surge of forces, the last brigade of which returned home this month, is now over, and the war in Iraq is entering another phase.
As Gen. David Petraeus prepares to move to his next post at US Central Command and Gen. Ray Odierno succeeds him in Iraq, the GAO says there is the need for a new plan.
---