France gives boost to Israeli-Syrian talks
French President Sarkozy, in Damascus this week, was also thought to be seeking Syria's help in dealing with Iran's nuclear program.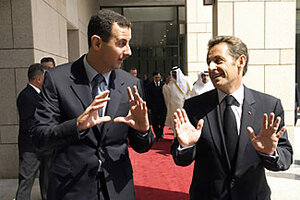 Philippe Wojazer/AP
While the prospect of Israeli-Syrian peace has been given a boost by French President Nicholas Sarkozy's visit to Damascus, any face to face dialogue between the two longtime enemies is likely to wait until new administrations are in place in both Jerusalem and Washington.
Still, the profile of the indirect Israeli-Syrian peace talks received a major upgrade as Mr. Sarkozy offered to mediate a treaty that could shift the balance of power in the Middle East away from Iran and in favor of the US and its allies.
But even as Syrian President Bashar al-Assad said Thursday that he had sent a six-point peace proposal to Israel and awaited a response, officials in both countries and Middle East analysts concede that substantive progress from the indirect talks hosted by Turkey has been modest at best.
"It will not happen in the present circumstances except as part of a larger reorientation of Syrian policies. For that, you need a US administration that is in the game," says Itamar Rabinovich, a former Israeli ambassador to the US and a top negotiator in Israeli-Syrian talks during the 1990s. "For now, everyone is keeping the ball in the air and trying to improve their position."
---