Odierno takes charge in a 'fragile' Iraq
Gen. David Petraeus, who handed over command on Tuesday to Gen. Raymond Odierno, will lead US Central Command.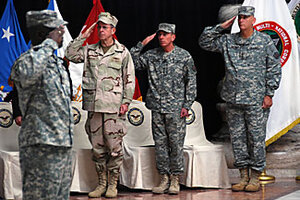 Tom A. Peter/The Christian Science Monitor
Gen. Raymond Odierno took control of American forces in Iraq Tuesday, becoming the fourth commander to lead US troops here and the first to take over as conditions are improving.
The dynamic has shifted dramatically in Iraq since Gen. David Petraeus, who handed over command in a ceremony presided over by Defense Secretary Robert Gates, became the senior officer here in February 2007. Iraq was mired in sectarian civil war then and in his first month on the job, 2,864 Iraqis died as a result, and there were an average of 180 attacks against coalition forces every day.
To be sure, Iraq is still very much at war. But last month hundreds of civilians were killed instead of thousands, and in June fewer than 20 attacks a day targeted coalition troops.
General Odierno will be charged with not only maintaining these successes, but building on them. He will be faced with mediating growing tension between America's Sunni allies and Iraq's Shiite government. He will monitor cease-fires and moderate post-conflict issues. And, perhaps most significantly, he will have to navigate the political climate in Washington as a new administration takes office.
---