Lebanon warily watches its Salafis
While the small community of adherents to strict Islam are being courted by Sunni and Shiite rivals, many worry they could bring Al Qaeda into the Lebanon conflict.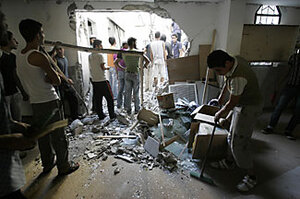 Ali Hashisho/Reuters
In the hilltop Abi Samra neighborhood of this northern city, black banners inscribed with Koranic verses adorn crowded streets. Young men advertise their religious devotion by wearing white dishdashas, long beards, and short hair.
This is where many of the country's small Salafi community, the adherents to strict Islam who aim to emulate the 7th-century practices and ideals of the prophet Muhammad and his followers, can be found and where they now find themselves under close scrutiny in politically divided Lebanon. Ideologically, Salafis shun man-made laws and politics, choosing instead to embrace only sharia (Islamic law) and believe in some of the same rigid ideals that Al Qaeda espouses.
Militant Shiite Hezbollah has been reaching out to them, believing that striking a deal with a Sunni sect, which does not even recognize Shiites as Muslims, might ease flaring intra-Muslim tensions.
The Future Movement, which represents most Lebanese Sunnis and opposes Hezbollah, also has been eyeing the Salafis. They allegedly bankroll the group's leading clerics, who are also said to be receiving funding from Saudi Arabia, Qatar, and Kuwait.
But concerns linger that Salafi extremists could provide a future bridgehead for Al Qaeda into Lebanon.
---