Why Israeli settlers are lashing out
Rights groups report a sharp increase of attacks by West Bank settlers on Palestinians, as well as rising right-wing violence against left-leaning Israelis.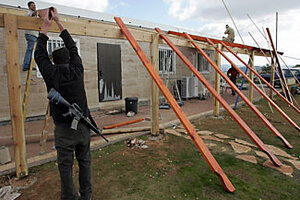 Jack Guez/AFP/Getty Images
When Yaron Ezrahi was a young political science professor in 1983, his star student was Emil Grunzweig, who had just completed his thesis on free speech.
Two days later, Mr. Grunzweig was killed at a peace rally here, when a right-wing activist threw a hand grenade into a crowd of people demonstrating against Israel's involvement in the war in Lebanon.
Today, Dr. Ezrahi sees a resurgence of the same blend of violence and lawlessness that took the life of his favorite student 25 years ago. His alarm stems from a pipe-bomb attack last week outside the home of Zeev Sternhell, a colleague to whom he is personally and ideologically quite close.
Professor Sternhell, who has been a prominent and outspoken critic of Israel's occupation of the West Bank and is active in the organization Peace Now, was lightly injured in the attack. Near his Jerusalem home, police found posters offering a 1 million shekel reward [close to $300,000] to anyone killing a member of Peace Now, which opposes Jewish settlement in the land seized in the 1967 Six-Day War.
To Ezrahi, there is a clear connection between an upsurge in violence perpetrated by settlers against Palestinians in the territories, particularly in the northern West Bank, and the reemergence of Israeli-on-Israeli acts of violence inside the Green Line, Israel's pre-1967 borders.
---