As violence drops, Iraqi tribes begin to make amends
Tribal elders are reviving a traditional process to heal the deep animosities resulting from sectarian bloodshed between Shiites and Sunnis.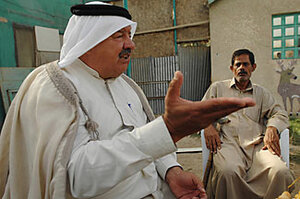 Scott Peterson/Getty Images
Tears rarely roll down Iraqi farmer Hassan Mohammed Hamoud's proud, sun-creased face.
But as this Shiite father describes his losses to war, the impact overwhelms him: a brother, two sons, two nephews, all killed by Sunni militant neighbors during the peak of sectarian violence in 2006.
Instead of seeking revenge, though, Mr. Hamoud is trying to forgive. He wants to end this feud and restore peace using a traditional process that is revitalizing the role of tribes in halting the cycle of violence.
"If reconciliation goes well and [the Sunni families] swear on the Koran, I think fighting will end after that," he says.
The effort is one example of how Sunni and Shiite tribes are meeting to accept responsibility for atrocities committed against each other during the war – in face-to-face talks between tribal elders – that involve mediators and often the paying of blood money by the guilty party.
In this case, which only relates to the killing of one of Hamoud's nephews, the Sunni tribe may pay Hamoud's tribe at least $40,000, though the initial request will be 10 times that amount.
"All the leaders of the big tribes are working for reconciliation between Shiites and Sunnis – we need to solve this problem for our people," says Sheikh Fayeq Hassan al-Taiee, a Shiite peacemaker who wears three rings of the type favored by Shiites, one with a polished white stone the size of a stuffed olive.
"They don't want to return back to killing," says Sheikh Taiee, who is representing Hamoud's family in the blood feud negotiation. "Revenge means killing again, so we decided to seek peaceful ways."
The tribal talks are the result of a nationwide call from Prime Minister Nouri al-Maliki and senior religious leaders earlier this year to bridge differences between tribes to prevent future bloodshed.
---