Riots fracture rare Jewish-Arab ties in mixed Israeli town
Israeli President Shimon Peres led a reconciliation effort Monday after four days of ethnic violence.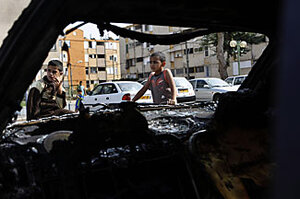 Ammar Awad/Reuters
After four days of ethnic rioting that has torn apart one of the few Israeli cities where Arabs and Jews live and socialize together, Israeli President Shimon Peres brought together political and religious leaders of both communities in an effort to restore a sense of calm and coexistence.
Community activists and Israeli analysts say the worst domestic clashes since 2000 were a local symptom of the troubled relations between the Jewish state and its one-fifth Arab minority.
Since last Wednesday, dozens have been injured on both sides, Arab houses torched, and Jewish businesses vandalized. Now Acre (pronounced AH'-koh), a city of 50,000, is patrolled by paramilitary policemen with M-16s and Israeli Prime Minister Ehud Olmert told them to show "zero tolerance" toward rioters. Streets remained calm since Sunday.
Trouble started in Acre, a city Mr. Olmert called a "shining example of coexistence," when Tawfiq Jamal, an Arab, drove into a Jewish area at the start of Yom Kippur, setting off a mob that accused him of desecrating the holiday.
After rumors spread among Arabs that Mr. Jamal had been killed, masked groups went on a rampage of vandalism throughout the city. Both sides blame the police for not doing enough to stop the violence that demonstrates just how fragile relations are between Arabs and Jews throughout the country.
---