Turkey tightens controls on Internet speech
The country's courts and governments have banned 850 websites this year, including YouTube and Blogger.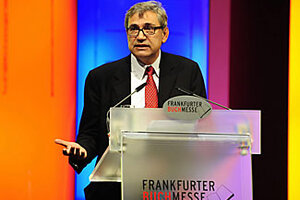 Torsten Silz/AP
For pioneering Turkish blogger Erkan Saka, these are dark days. Last week, he found himself cut off from a group of blogs that he belongs to and from hundreds of other websites he regularly reads.
A Turkish court had just banned Blogger, the popular blog-hosting site owned by Google, because of illegal material found on a few sites on its servers. It was just the latest among hundreds of sites banned by Turkey's courts and government this year, raising concerns about censorship in a country with an already troubling record on freedom of speech.
"I feel very helpless and frustrated. I am not allowed to use something very natural now. A basic means of communication is being prevented," says Mr. Saka, who teaches popular-culture studies at Istanbul's Bilgi University and operates the website erkansaka.net.
Although his site, hosted elsewhere, was not affected and the Blogger ban was provisionally lifted Tuesday, some 850 websites remain off limits. YouTube has been blocked since May, after clips mocking Mustafa Kemal Ataturk, modern Turkey's founder, were posted there. And recently a court agreed to bans on the websites of Oxford evolutionist Richard Dawkins and one of Turkey's largest newspapers after an Islamic creationist group complained about them.
---