Iraqi cabinet votes to keep US troops
A new pact that faces final approval from parliament will keep US troops in Iraq for up to three more years. By June 2009 US forces will pull back to major bases.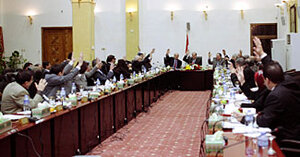 Iraqi Government/Reuters
Iraq's cabinet overwhelmingly approved a security pact on Sunday that will enable a continued American military presence in Iraq for up to three more years, overcoming protests from hard-line Shiite nationalists and pressure from Iran to block the deal. It is expected to go before the parliament for final approval by the end of this month.
Key revisions on sovereignty issues, demanded by Iraq and accepted by the US during months of fractious negotiations, led Iraq's highest-ranking Shiite religious figure, Grand Ayatollah Ali al-Sistani, to indicate over the weekend he would not object to the sweeping deal. Although the pact has experienced pockets of resistance, many Iraqis say the victory of US President-elect Barack Obama was a factor because of his promise to withdraw troops within 16 months of taking office.
The pact specifies that US units are to withdraw from Iraqi cities by June 2009, with a final countrywide pullout by the end of 2011. US diplomats have grown increasingly desperate to conclude the deal before a United Nations mandate, under which US forces currently operate, expires at the end of this year.
Passage through parliament is expected, since the cabinet vote showed that key political blocs support the deal, said government spokesman Ali al-Dabbagh.
"They all expressed a positive position because they consider it the best [agreement] possible, because it will manage and end the military presence and guarantee the complete withdrawal of the troops," said Mr. Dabbagh.
---