Iraq bids to stop Christie's sale of ancient earrings
The jewelry could belong to the treasures of Nimrud, officials say.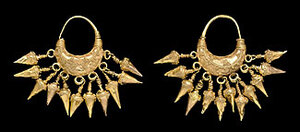 Courtesy of Christie's Images Ltd. 2008
They were earrings that literally could have been worn by a queen. The neo-Assyrian jewelry, some 3,000 years old, is Lot 215 in an auction of ancient art and antiquities to be held at Christie's in New York next week [Editor's note: The original version misstated the age of the earrings.]. They are expected to fetch up to $65,000.
But Iraqi authorities say they might have belonged to the treasures of Nimrud, excavated by an Iraqi team in 1989, just after the devastating Iran-Iraq War. They have been publicly exhibited only twice – the second time for just one day under the US coalition authorities.
"I am 100 percent sure they are from the same tombs from Nimrud," says Donny George, the former director of the Iraq Museum and now a professor of archaeology at Stony Brook University in New York. "Nothing of this nature has been excavated from it before – I witnessed the excavation. I would say it is 100 percent from there."
Iraqi authorities have petitioned to stop the sale. "We're hoping to get them back," says one official.
---