As Iraq calms, Mosul remains a battle front
US forces may stay in the volatile northern city beyond the June deadline for Americans to pull back to bases.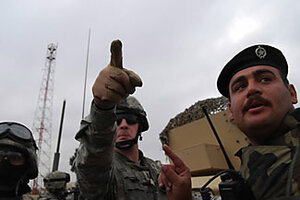 Jane Arraf
Attacks have dropped dramatically across Iraq, falling by 80 percent since March, when US and Iraqi forces were locked in deadly fights with Sunni insurgents and Shiite militiamen. Today conditions in many parts of the country appear ripe for US forces to begin pulling back and for Iraqis to take the lead.
But in the northern city of Mosul, violence still rages. US and Iraqi forces continue to battle the latest incarnation of Al Qaeda in Iraq (AQI), which considers the city a key asset in its self-declared Islamic state. Mosul's location near the Syrian border, where foreign fighters cross into Iraq, adds to its strategic importance. The gains here are fragile, and neither Iraqi nor American military leaders can afford to see it return to insurgents' hands.
So when US troops withdraw to their bases next June under an agreement with the Iraqi government, there's a good chance they will stay put in Mosul, according to American and Iraqi officials.
"In this climate we can't do without American forces," says Mosul Mayor Zuhair al-Aaraji. "Our government is still too weak to fully support the Iraqi forces." Last Saturday Gen. Ray Odierno, commander of American forces in Iraq, said that despite the joint US-Iraqi security pact that calls for US troops to leave Iraqi cities, some battalions could remain in urban centers. "It's important that we maintain enough presence here that we can help them get through this year of transition," he said.
---