Clinton visit: In a West Bank café, Palestinians ask how much will change
Patrons at 'Stars and Bucks' critique her statements. 'We already know the quotes by heart,' one says.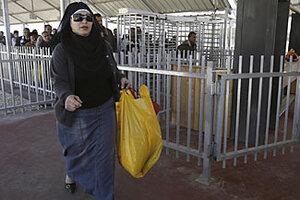 Nasshtayeh/AP
If there is any place in this de facto capital of the West Bank where all things American are welcomed, it's here at Stars and Bucks – an unabashed Starbucks knockoff complete with green-and-white logo, cozy couches, and myriad mochas and lattes.
But even as US Secretary of State Hillary Clinton was visiting the Palestinian territories for the first time since her appointment, men and women here took little interest in the fact that their president, Mahmoud Abbas, was standing side by side with her, giving a joint press conference following their first meeting.
Mrs. Clinton, a day after meeting with Israeli officials, reiterated her belief in a two-state solution with Israel and spoke passionately about Palestinian suffering and the right of a Palestinian child to live a normal, secure life, just like a child "growing up in any country."
But she faces an uphill battle in convincing Palestinians – and others across the Arab world – that the Obama administration is substantially different from its predecessor, while also maintaining the "special relationship" that has been a cornerstone of Middle East policy since her husband, Bill Clinton, was in office.
---