Why Syria and Saudi Arabia are talking again
It's about Iran, Iraq, and Israel. The two foes planned to meet in Riyadh Wednesday to solidify Arab unity amid regional volatility.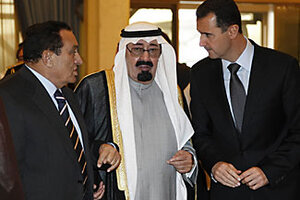 Hassan Ammar/AP
Saudi Arabia's steps to end its bitter dispute with Syria appear to be aimed at unifying Arabs against a trio of growing concerns: Iran's spreading influence in the region, the uncertainties of a US drawdown in Iraq, and the prospect of a right-wing government in Israel.
Saudi outreach follows Washington's tentative reengagement with Damascus, a move that diplomats hope will have more success in weaning Syria away from its Iranian ally than the Bush administration's policy of isolation.
"The Saudis want to get Syria away from Iran," says Andrew Tabler, a Syria expert at the Washington Institute for Near East Policy. "Washington's style is to try engagement as well, so the Arabs are trying their best to get Syria on board."
After a month of shuttle diplomacy, Saudi King Abdullah, Syrian President Bashar al-Assad, Egyptian President Hosni Mubarak, and Kuwaiti Emir Sabah al-Ahmad al-Sabah will meet for a fence-mending summit in Riyadh Wednesday.
---