Why Arab leaders embrace Sudan's indicted president
At the Arab League summit Monday, the UN secretary general condemned Sudan's expulsion of humanitarian aid groups in response to the ICC arrest warrant for Bashir.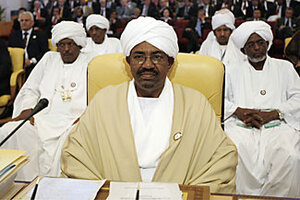 Hassan Ammar/AP
On Sunday Sudanese President Omar al-Bashir strode off his airplane and onto a red carpet at the airport in Doha, greeted with a kiss by the tiny kingdom's emir as he arrived for a two-day Arab League summit dedicated to strengthening Arab unity.
Mr. Bashir has been a busy man since his indictment for seven counts of war crimes and crimes against humanity by the International Criminal Court (ICC) on March 4. His visit to Qatar's capital is the fourth time in two weeks that he has defied the standing international warrant for his arrest, coming after visits to the neighboring countries of Eritrea, Egypt, and Libya.
Bashir is the first sitting head of state to be indicted by the ICC, but nonetheless has enjoyed an outpouring of support from Arab and African leaders. Their hostile reaction to the indictment of one of their own, say diplomats and analysts, is driven by a combination of concern for the indictment's consequences for Sudan's stability, resentment of the selective precedent it sets, and worries about national sovereignty.
---