Netanyahu: Israel is serious about peace
The hawkish prime minister, who presented his new government Tuesday, shows a distinct change in style and tactics – though not substance – since his 1996-99 term.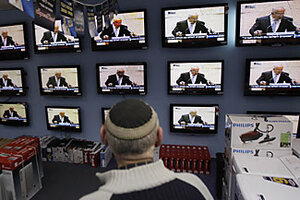 Dan Balilty/AP
This week, Benjamin Netanyahu begins his second tenure as Israel's leader. Will this time be different?
Nearly a decade after his rocky stint as prime minister ended in a landslide defeat, his inaugural speech Tuesday evening completed a comeback. But Israel's leader is still dogged by a legacy of diplomatic stagnation that unnerves both the international commuinty and Israelis – a legacy he sought to overcome in his address to parliament.
"Israel aspires to a full peace with the Arab world," he said, as he presented his new right-wing government. "I say to the Palestinians, 'If you really want peace, we can achieve peace.... We will conduct continuous negotiations.' "
Netanyahu's shift in emphasis from criticism of the peace process to stressing his desire to "engage" with new ideas stems in part from an ill-fated first go-round as premier, which observers say chastened the man known for his hubris.
The change, however, is more a function of style and tactics rather substance, say many analysts. While they say his worldview is still that of a pragmatic hawk who is skeptical about making concessions to Israel's Arab neighbors, observers point to a mellowed political style and a more carefully considered tactician.
"Netanyahu is still a very strong idealist," says Aviv Bushinsky, who served as Netanyahu's top media advisor during his first term. "I think he will be more cautious before making decisions. Even if he reaches the same decisions, he'll prepare the ground better."
Last time: a wunderkind bent on opposing peace
When Benjamin Netanyahu became Israel's youngest prime minister in 1996, he had a reputation as a brash political bent on putting the brakes on the Oslo peace process adopted by the administration of former US President Bill Clinton.
---