Iran's president makes rare intervention in US reporter's case
Mahmoud Ahmadinejad tells Iran's judiciary to uphold Roxana Saberi's legal rights.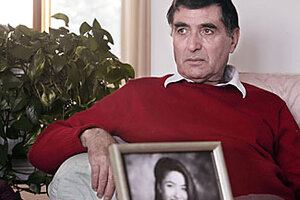 Jay Pickthorn/The Forum/AP/File
In a rare intervention, Iran's President Mahmoud Ahmadinejad on Sunday warned the judiciary to ensure that US-Iranian journalist Roxana Saberi has "all freedoms and legal rights" to defend herself from espionage charges.
Ms. Saberi was sentenced to eight years in prison on Saturday for spying for the United States.
The case comes even as President Barack Obama has made several overtures to Tehran in recent months, in a bid to end 30 years of mutual hostility and begin a dialogue that would include Iran's controversial nuclear program.
Mr. Obama was "deeply disappointed" at news of Saberi's sentence, his spokesman said.
The tough verdict stood in contrast to a recent cooling of the heated anti-Western rhetoric from Mr. Ahmadinejad and other Iranian officials. There has been a pledge to offer a new diplomatic package that would "guarantee peace and justice in the world," and indications that Iran is also willing to start a new chapter with the US.
The letter from Ahmadinejad's office is an unusual intervention in a judicial matter, and suggests a degree of politics at play in Saberi's case.
"At the president's insistence, you must do what is needed to secure justice … in examining these people's charges," said the letter addressed to the Tehran prosecutor, regarding Saberi and Hossein Derakhshan, an Iranian-Canadian blogger detained since November.
---