Plans for the pope's visit hit a wall in Bethlehem
Palestinians are building a stage to receive the pope beside Israel's separation barrier, but the Vatican says he will now speak at a nearby school.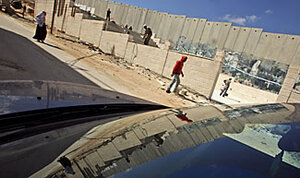 Muhammed Muheisen/AP
For weeks, laborers have been laying new tiles and leaders have been finalizing their plans for welcoming one of the most important visitors the Aida Refugee Camp has ever seen: Pope Benedict XVI, who will embark on a historic visit to the Holy Land next week.
But despite giving the stone amphitheater here a face-lift – with funds from the Palestinian Authority (PA) – their plans to host the pope have hit a glitch, or to be exact, a wall. The Vatican has informed Palestinian officials that the papal visit will be held at a nearby United Nations school instead of on the stage they were preparing for him, raising a wave of local ire.
What's in a stage?
There is no other venue in the world with a backdrop quite like this one. It sits in the looming shadow of the West Bank separation barrier built by Israel, complete with a forbidding watchtower. The massive concrete slabs here are painted with anti-Israeli graffiti, calls for Palestinian freedom, and a white patch on which the camp's community center sometimes screens films. From the point of view of Palestinians who live here, there is no vista which conveys their reality better than this one.
"We want to show the pope the wall, and the big prison that the Israelis have put us in," says Samir Oudeh, head of the Popular Committee of Aida Refugee Camp, as he stands atop the long, narrow, open-air theater that hugs the wall. "This is our catastrophe, and we know that they don't want the world to see it."
---