Lebanese leaders quiet on Spiegel's bombshell report
Two weeks before crucial June elections, rival camps have refused to react to allegations that Hezbollah was behind the polarizing Hariri assassination in 2005.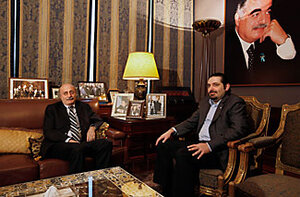 Bilal Hussein/AP
A bombshell revelation tying Lebanon's militant Hezbollah to the assassination of a former Lebanese prime minister has generated a rare consensus among rival political camps less than two weeks before crucial parliamentary elections.
The German news magazine Der Spiegel reported this weekend that the Netherlands-based international tribunal established to trace and judge the killers of Rafik Hariri has uncovered evidence that Hezbollah was responsible for the February 2005 truck bomb assassination.
Hezbollah described the allegations as "evil fabrications" aimed at "influencing the election campaign" and called on the international tribunal to refute the allegations.
A spokeswoman for the tribunal refused to discuss Der Spiegel's claims, saying, "We don't know where they are getting the story from. The office of the prosecutor doesn't comment on any issues related to operational aspects of the investigation."
The revelations, coming just two weeks before Lebanon holds closely contested parliamentary elections, have the potential to ignite simmering Sunni-Shiite tensions here. On Sunday night, a Shiite supporter of the Hezbollah-led opposition was killed during a clash with partisans of the Western-backed March 14 coalition.
Calculated leak against Hezbollah?
The opposition is expected to win marginally more seats than its March 14 competitor, allowing it to form the backbone of the next government.
The timing of Der Spiegel's report has sparked speculation that it was a calculated leak to put Hezbollah on the defensive just as the Shiite group was hoping that an electoral victory would earn it some respite from international and domestic pressure to dismantle its military wing.
---