What's behind Iran's power struggle
Thirty years after the Islamic revolution, Ayatollah Khamenei is looking to remove rival old-guard leaders – including Mir Hossein Mousavi.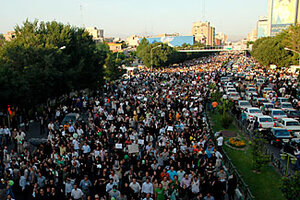 Demotix/Reuters
Iranian security forces continued arresting key opposition figures on Wednesday, as defeated presidential candidate Mir Hossein Mousavi kept up pressure for a revote by calling his supporters onto the streets to mourn at least seven killed in clashes.
The Association of Human Rights Activists in Iran announced Wednesday it had confirmed 32 deaths in the violence, with more reported dead outside the capital.
Among those arrested Wednesday were prominent reform strategist Said Hajjarian, former vice president Ali Abtahi, former foreign minister Ibrahim Yazdi, and prominent critic and editor Saeed Laylaz – adding to the scores of key Mousavi supporters already detained.
The moves are part of a power struggle among Iran's political elite 30 years after the Islamic revolution. Analysts speculate that Supreme Leader Ayatollah Sayed Ali Khamenei is aiming to remove rival first-generation leaders – some of the original leaders of the revolution. President Mahmoud Ahmadinejad (a second-generation leader) is a useful ally in that effort.
---