Ahmadinejad fires up the anti-America rhetoric again
Hopes dimmed for a thaw in US-Iran relations as the Iranian president criticized his American counterpart Barack Obama for echoing Bush rhetoric.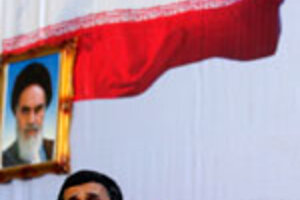 Sajjad Safari/Mehr News/Reuters
Chances of any early start of US-Iran dialogue dimmed further Thursday as President Mahmoud Ahmadinejad singled out his US counterpart, Barack Obama, for criticism.
Before Iran's disputed June 12 vote, Mr. Obama had made several modest overtures toward Iran and made clear his hope that 30 years of bitter hostility can be overcome. But Obama this week said he was "appalled and outraged" by a crackdown on protests against widespread fraud in Iran that have officially left 20 dead.
The hard-line Mr. Ahmadinejad – who, in his first four year term, mixed harsh criticism of Washington's policies with praise for "noble Americans" – accused Obama of echoing former US President George W. Bush.
"Mr. Obama made a mistake to say those things ... our question is why he fell into this trap and said things that previously Bush used to say," Ahmadinejad said, according to the Fars news agency, which is linked to Iran's Revolutionary Guards.
"I hope you avoid interfering in Iran's affairs and express your regret in a way that the Iranian nation is informed of it," Ahmadinejad added.
Majority of lawmakers skip Ahmadinejad's victory bash
Iranian officials have charged that the US, Britain, and Israel are behind demonstrations that have brought hundreds of thousands out onto the streets – resulting in clashes, street violence, and rioting – in a bid to annul Ahmadinejad's unexpected 2-to-1 landslide victory over Mir Hossein Mousavi.
---