Tension deepens over intent to close Iraq's Camp Ashraf
The camp is the last place belonging to the MEK Iranian opposition group, and concerns are growing over potential violence if Iraq moves forcefully to shut it down.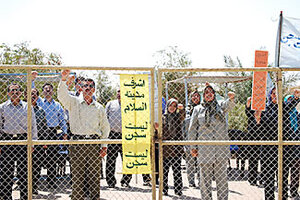 Jane Arraf
Baghdad - Fifty miles from the Iranian border, a potentially deadly drama is quietly unfolding as the Iraqi government grapples with the fate of several thousand Iranian opposition members who refuse to fade into history.
The opposition Mujahideen al-Khalq (MEK) has been closely watching the protests next door in Iran over charges of a rigged reelection of President Mahmoud Ahmadinejad. But their interest isn't in whether the Iranian leader gives in to calls for a recount. It's their belief that the protests could somehow topple the entire system of Iran's religious leadership.
"We are witnessing the beginning of the end of the oppressive clerical regime," the Paris-based organization quoted one of its supporters as saying.
The prospect of a change in Iran's government is viewed by many to be as unlikely as the MEK's hope that Iraq will change its mind about shutting down a camp that has been a major irritant in Iranian-Iraqi relations.
In recent weeks, the leadership of Camp Ashraf, the former main military base of the MEK, has accused Iraqi riot police of entering the camp north of Baghdad and threatening some of its 3,400 residents.
Western officials familiar with the case say Interior Ministry rapid deployment forces stopped outside the main gate in what appeared to be a show of force, without going into the camp.
They say, though, that the standoff could very easily turn violent, given the combination of Iraqi troops not known for their restraint and an extremely disciplined organization intent on creating an international incident.
In 2003, several MEK protesters in Paris set fire to themselves to protest the arrest of the organization's leader.
---