Has Ahmadinejad lost his global following?
After stamping out election protests, Iran may see its "resistance" brand weaken. The first big test: The Non-Aligned Movement summit, which opens Wednesday in Egypt.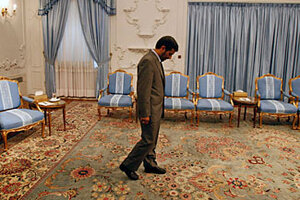 Vahid Salemi/AP
For 30 years, Iran has cast itself as a leader of resistance to Israeli and Western policies, and few of its leaders have done as much for that image as President Mahmoud Ahmadinejad.
Under Mr. Ahmadinejad, Iran's "resistance" brand has gone global, challenging Western hegemony in the name of defending the globally downtrodden and winning allies from Lebanon to Venezuela while drawing harsh criticism from the United States.
But analysts say Iran's resistance image has been challenged by Ahmadinejad's controversial June 12 reelection, after which hundreds of thousands of Iranians took to the street to protest what they say is a fradulent vote. Even so, the idea of "resistance" is hard-wired into the Islamic Republic, and many expect the president to strongly reassert it by turning up verbal attacks on Israel and the West.
His first big chance comes in an unlikely place: Egypt. One of Iran's biggest regional rivals, Egypt, this week hosts a summit of the Non-Aligned Movement, a cold war alliance of developing states. Ahmadinejad is scheduled to attend the event, which begins Wednesday.
He will be the first Iranian leader to come here since the revolution, and few expect him to be a demure guest.
---