Why Iran's Revolutionary Guards mercilessly crack down
A force to reckon with in President Mahmoud Ahmadinejad's second term, the Guards are led by commanders whose worldview was forged during the devastating Iran-Iraq war.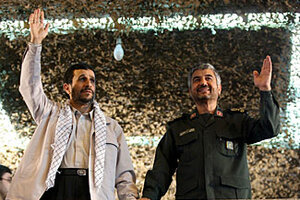 AP/FILE
To Iran's Revolutionary Guards, the danger facing the Islamic Republic is acute: Its founding ideals are under serious threat at home and from abroad, and every sacrifice must be made to preserve them as President Mahmoud Ahmadinejad embarks on his second term.
In response, the Iranian Revolutionary Guard Corps (IRGC) is openly taking the lead for curbing dissent following Mr. Ahmadinejad's sharply disputed June 12 reelection – a reflection of the influence it gained in both security and business affairs during the president's first term.
Over the past decade, and particularly the past two months, the perceived dual threat from domestic reformers and Western meddling has resulted in an IRGC-led militarization of Iran as security "needs" have shaped official decisionmaking.
Iran's reformists, decimated by arrests in the recent clampdown, have long argued that international pressure on Iran would strengthen the IRGC politically – while sanctions would increase the Guards' economic role.
Ironically, some conservatives now argue that continued protests will encourage a punitive approach from the authorities and a further drift to the right.
Amir Mohebbian, political editor of the conservative Resalat newspaper, for example, blames postelection violence on the reformists' decision to take to the streets.
"The support of foreign countries for the reformist movement, especially from the US, only helps antireform groups to show the hand of strangers behind their activities," says Mr. Mohebbian, an astute commentator who was one of the first to predict that Mir Hossein Mousavi would present a serious electoral challenge to Mr. Ahmadinejad.
---