West Bank settlements become havens of Israeli surburbanites
Growth driven less by ideology than by middle-class economics could strain peace talks.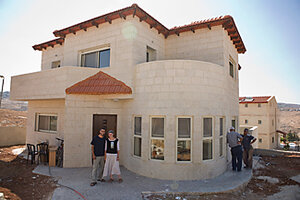 Yasmine Soiffer / Special to The Christian Science Monitor
Kiryat Netafim and Tekoa, West Bank
Meet the Ovadiahs, the Allons, and the Cohens. They're new arrivals in Israeli neighborhoods where freshly laid red-tile roofs and toddler toys dotting green lawns are a picture of the Israeli equivalent of the American dream, minus the white picket fence.
But the sounds wafting through the air – the constant clank of construction, and the Muslim call to prayer from nearby Palestinian villages – speak to the larger context in which their new homes are located. All three families have recently bought homes in West Bank settlements, where the rate of population growth – three times that of Israel alone – is the subject of great global dispute.
For the past decade, an annual average of more than 10,000 newcomers have settled in this disputed territory – a portion of that growth was babies born to growing families. In the years 2006 through 2008, a yearly average of 14,100 new residents of West Bank settlements were registered by Israel's Central Bureau of Statistics – the biggest growth spurt, in sheer numbers, in recent Israeli history.
That growth has vastly different meaning locally, nationally, and globally.
To Palestinians, it means an expansion of the occupation.
In the Israeli narrative – in which the world's censure of settlement growth seems to have been reduced to background noise for families like the Ovadiahs, Allons, and Cohens – the growth is beginning to look like little more than suburbanization. They came in search of quiet bedroom communities that boast ample space, pretty landscapes – and some of the best home values in Israel.
Through the lens of the international community, West Bank growth impedes renewed efforts to bring about a two-state solution to the Israeli-Palestinian conflict.
---