What needs to be solved for Fatah-Hamas reconciliation
Fatah agreed Wednesday to an Egyptian-backed deal, but tension over the Goldstone report and deep distrust have left many skeptical.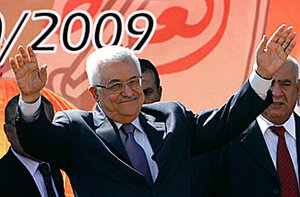 Mohamad Torokman/REUTERS
In Ramallah Wednesday, Fatah officials initialed a preliminary agreement aimed at mending the rift with Hamas, though the Islamic militants balked – a sign that the conditions for reconciliation may not have ripened.
A powersharing deal is aimed at ending more than two years of divided rule between Fatah in the West Bank and Hamas in Gaza that has sapped Palestinian public morale, stymied the political system, and dimmed the prospects for achieving an agreement with Israel to establish a Palestinian state.
"The question is, if the Palestinians can't find reconciliation between ourselves, how can we reconcile with the Israelis?" asks Mohammed Dejani, a political science professor at Al Quds University. "People are fed up and tired, and there's a lot of despair."
---