Clinton's push for Arab democracy overshadowed by Israel stance
Hillary Clinton announced new aid programs at a two-day forum with Arab leaders in Morocco, which she held up as a model for democratic reform in the region.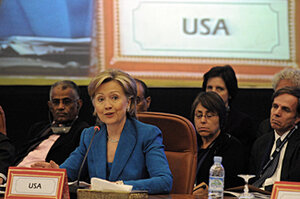 Abdelhak Senna/AFP/Newscom
US Secretary of State Hillary Clinton met with more than 20 Arab foreign ministers Monday at a forum intended to promote democracy in the region, but her initiatives were overshadowed by a new road block in Middle East peace efforts.
Grilled by reporters at a Monday night press conference with Moroccan Foreign Minister Taieb Fassi-Fihri, Secretary Clinton held fast to her support this weekend for an Israeli proposal to restrain settlement growth in the West Bank, which she called "unprecedented."
But Palestinians, whose President Mahmoud Abbas Clinton met in Abu Dhabi on Saturday, are demanding a more comprehensive freeze in settlement activity as a precondition for reentering peace talks. Arab League President Amr Moussa expressed Arab leaders' deep disappointment over what they perceive as US backpedaling on earlier demands for a complete settlement freeze.
"The problem is the immunity given to Israel, a country outside the scope of international law. This kind of immunity is unprecedented," Mr. Moussa told the Monitor on Monday. "We have to stop treating Israel as a superstate over international treaties."
A Moroccan diplomat called this new road block in the Middle East peace process a "handicap" for talks on democratic reform at the two-day Forum for the Future, as it's known. The annual meeting, established by the Group of 8 (G-8) industrialized countries in 2004 to support inclusive dialogue between the West and the Islamic world, brings together foreign ministers from the G-8 and from the broader Middle East and North Africa (BMENA).
---