Palestinian parliament expires four years after Hamas electoral upset
New elections should have been held Jan. 24, according to the Palestinian Constitution. But Hamas, which trails its rival, Fatah, in polls, may benefit from delay.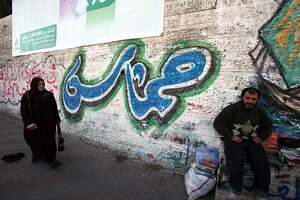 Newscom
Four years after Hamas won an upset victory in the 2006 Palestinian legislative elections, prompting swift international sanctions and a Western-led diplomatic boycott, the mandate for the parliament it dominated officially expired on Monday.
According to the Palestinian Constitution, new parliamentary elections should have been held Sunday, Jan. 24, in both the West Bank and Gaza Strip.
But continued political division between the West Bank, governed by the Western-backed Palestinian Authority (PA), and the Hamas-run Gaza Strip, has delayed the elections indefinitely.
Hamas denounced allegations from the West Bank that its government is now no longer legitimate. But with both sides now trading accusations over the legality of the other's rule, the recent impasse could mean an even more fractured and debilitated political landscape in the Palestinian territories, analysts say.
"It seems to me, with the rhetoric of the past few days, that we are approaching a period of even more division and more internal political problems," says Gaza-based political analyst, Mukhaimar Abusaada. "The most important thing right now is that Hamas is in control, and it has the recognition of several European nations. They feel now that they can do whatever they want."
Hamas support slipping
---
Follow Stories Like This
Get the Monitor stories you care about delivered to your inbox.