These Palestinians aren't happy about Israel settlement freeze
Many Palestinian construction workers were employed in building projects that Israel Prime Minister Netanyahu's 10-month settlement freeze has put on hold.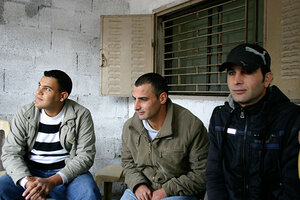 Ilene R. Prusher/The Christian Science Monitor
Jalazon Refugee Camp, West Bank
Theoretically, the 10-month freeze on building Israeli settlements in the West Bank was supposed to benefit the Palestinian cause.
But at the run-down cafes that make up a town square of sorts here in the Jalazon Refugee Camp, there's a different story.
It's just before noon, and the area is full of young men with nowhere to go.
Normally, about half of Jalazon's able-bodied men are employed in construction in nearby Jewish settlements. But since Prime Minister Benjamin Netanyahu, under pressure from President Barack Obama, announced the settlement building freeze in October, much of the work has disappeared.
In the long-term, the freeze is meant to help the stagnant Israeli-Palestinian peace process, and Palestinian leader Mahmoud Abbas said he wouldn't agree to a resumption in peace talks without a building moratorium. But in the short-term, thousands of Palestinians who work in construction across the West Bank are feeling the pinch. They're annoyed that no one seems to be paying attention to the impact on their lives of what they see as a pointless exercise.
"Work in the settlements has decreased dramatically in the last few months – it's nothing like it was before. But our lives haven't changed for the better and the leaders aren't any closer to peace, so what's the point?" says Walid Mustafa, a sort of self-appointed spokesman of the unemployed and father of seven who says he's lucky to find work one day a month. "The settlement freeze is temporary anyway. The Israeli government is made up of settlers, and they will build again soon enough."
---