Shiite pilgrims targeted as Iraq bombings intensify
A female suicide bomber killed at least 46 Shiite pilgrims as violence intensifies ahead of elections next month.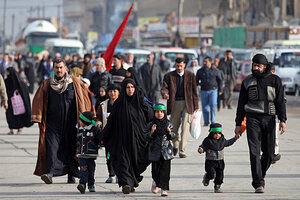 Karim Kadim/AP
A female suicide bomber walked into a tent full of Shiite pilgrims on Monday, killing at least 46 people and wounding another 100 in the latest attack in the run-up to Iraqi elections next month.
"It is a political matter – it is part of the elections campaign," said Captain Sameer, an Iraqi Army officer near the scene. "An explosion like this that takes place targeting Shiites on a sacred religious rite – the obvious thing to do is to blame Sunnis and this would of course affect their standing in the elections."
Iraqi security officials said the attack was carried out on the northeastern outskirts of Baghdad where the roads were filled with thousands of pilgrims walking to Karbala. Women and children were among the casualties.
Sameer, reached by phone, said the bomber was believed to be a woman dressed in an abaya – the traditional black cloak – carrying a bag who walked into one of the roadside tents set up to offer food and rest to the pilgrims.
The target was believed to be the pilgrimage tent in the Boub al-Sham neighborhood. The tent was also near the headquarters of a National Police unit known as The Wolf Brigade. The Wolf Brigade, since reformed, was identified during Iraq's sectarian war with Shiite death squads
The Baghdad Operations Command gave a slightly different account of the attack, saying in a statement that the bomber detonated the explosive belt while passing through a security check at the tent. The statement said three female searchers were among the dead. The statement listed the death toll as 38 dead and 80 wounded.
---