Israel mulls freeing Hamas 'underwear bomber'
At age 21, Wafa al-Biss was arrested at the Israeli border with explosives sewn into her underwear. Five years later, she and some 1,000 other jailed Palestinians may be released as part of a deal to free Israeli Sgt. Gilad Shalit.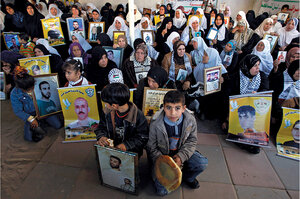 Hatem Moussa/AP
In a bedroom overlooking Jabaliya refugee camp's narrow, potholed streets, an array of new cosmetics and a hairbrush are lined up neatly in anticipation of a daughter's early release from prison.
Next to a portrait of Palestinian leader Yasser Arafat, a framed photo of Wafa al-Biss looks out into the room she has not seen since being arrested at the Israeli border with 20 pounds of explosives sewn into her underwear in 2005. She was 21 years old.
In the photo, Wafa is dressed in bluejeans, heavy makeup, and a lace head scarf. She is unsmiling, almost defiant.
"She was the foundation of our family," says her father, Samer al-Biss, who lives with his wife and 10 other children in their three-room home. "I depended on her like I would a strong man."
Wafa was sentenced to 12 years in an Israeli prison after soldiers caught her at the Israeli-Gazan border five years ago. Now she is reportedly on the list of some 1,000 prisoners Hamas wants released in exchange for Israeli soldier Gilad Shalit, whom Palestinian militants captured in a 2006 cross-border raid. German-mediated negotiations over the controversial swap have gained momentum in recent months, and expectations are high on both sides that a deal could be imminent.
---