What's behind renewed war jitters in Israel, Lebanon?
The saber-rattling between Israel and Lebanon – which Israeli Foreign Minister Avigdor Lieberman extended to Syria – has created an atmosphere similar to the one that preceded Israel's 1982 invasion.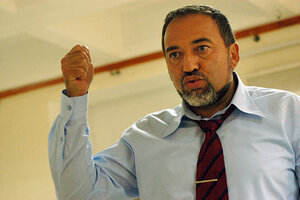 Rafael Ben-Ari/Newscom/File
A renewed flurry of threats and warnings between Israeli officials and the leaders of Lebanon's militant Shiite organization Hezbollah have sparked a serious bout of war jitters on both sides of the border which are also threatening to draw in other regional players. Israeli Foreign Minister Avigdor Lieberman publicly warned Syrian President Bashar al-Assad today that getting involved in a Lebanon-Israel conflict would result in the disintegration of his regime.
Though Israeli Prime Minister Benjamin Netanyahu then sought to smooth Syria's feathers, reiterating his country's desire for restarting peace talks, tensions are running high over a possible conflict with its neighbors. Israeli leaders grumble about Hezbollah's military build-up since their month-long war in July 2006 and warn of a massive blow against Lebanon in the event of another clash. Hezbollah's leadership remains defiant, saying they're ready for another confrontation and confident of victory against the Jewish state.
The saber-rattling from both sides is part of the relentless psychological war between the two bitter foes, and shows that tensions continue to exist despite the fact that the border between them has experienced its longest period of calm in more than four decades. The United Nations peacekeeping force in south Lebanon, known as UNIFIL, says there is no indication that another war is imminent.
---