US pushes Israelis and Palestinians to 'proximity' peace talks
With the prospect for direct peace talks between Israelis and Palestinians bleak, US peace negotiator George Mitchell is pushing for "proximity" talks that would see him or an aide shuttling between the two sides.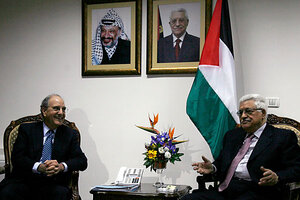 Mohamad Torokman / Reuters
There is a new American proposal on the table, and it's called proximity talks. While this isn't new for diplomacy, it is new for the Middle East conflict, where Israeli and Palestinian officials have long considered face-to-face dialogue to be a key ingredient in the recipe for making peace.
The idea of proximity talks, which has been used in conflict resolution work from Cyprus to Northern Ireland, is that when the waring parties are so far apart, it sometimes works best to have them nearby but not in the same room, and to have an intermediary shuttling between them until he or she forges an agreement.
That is the role that veteran US peace negotiator George Mitchell is now poised to take on, in an offer which the sides have been mulling over since his last visit here – the 13th since he was assigned the difficult job of brokering Middle East peace on behalf of the Obama administration. The Israeli government has accepted the formula, while the Palestinian Authority (PA) says it still seeking clarifications on various details from the US before it gives its reply.
---