Iran braces for demonstration showdown: Will the future of Iran be changed?
Iran is bracing for protests by reformers and counter-protests by regime supporters when the Islamic Republic celebrates its 31st anniversary on Thursday. Supreme leader Ayatollah Khamenei is promising a 'stupefying' display of support for the regime.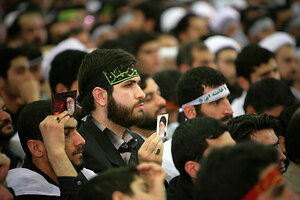 Khamenei.ir/Reuters
Opposition and pro-government Iranians are preparing to take to the streets of Iran on Thursday to mark the 31st anniversary of the Islamic Revolution, in a political and ideological showdown set to shape the future of Iran.
Supreme religious leader Ayatollah Seyyed Ali Khamenei has promised that the West and Iran's enemies would be "stupefied" by an unprecedented show of support for the regime.
But every senior leader of Iran's opposition – the so-called Green Movement that grew out of disputed elections last June – has also called for huge turnout on a day that has always been considered by many Iranians as more a nationalistic than pro-regime event.
"It's going to be a big show of force, a big competition between the two sides over who can rule this day – and who can lay claim to the legacy of the revolution," says Ahmad Sadri, an Iran specialist at Lake Forest College in Illinois.
At issue are fundamental questions that have been fought over in the streets, in the prisons, and from the pulpits of Iran for eight months. At stake is who are the true heirs of Iran's revolution and its first promises of "Independence, freedom, [and] Islamic Republic."
Weeks of violence were sparked last summer by the officially declared election landslide for incumbent hardline President Mahmoud Ahmadinejad, which many Iranians and analysts say was an impossible result achieved through fraud.
---