Israeli-Arab film 'Ajami' spotlights tough, gentrifying Jaffa
The makers of the Israeli-Arab film 'Ajami,' which was nominated for an Oscar, saw their depiction of drug dealing and poverty in Jaffa collide with reality earlier this week, when two of them were arrested.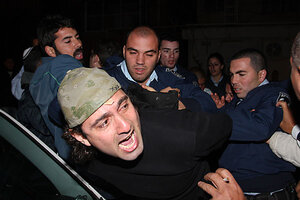 Mohammed Babay/AP
The film "Ajami" was already getting a fair amount of press after being nominated earlier this month for an Oscar in the "Best Foreign Language Film" category.
But the film and the violent, crime-ridden neighborhood it portrays just became an even hotter topic after two brothers of filmmaker Scander Copti – one of whom was also in the film and served as his production manager – were arrested following a run-in with the police. The brothers, Tony Copti and Jieres Copti, who say they were beaten and mistreated by the police during their arrest over a week ago, filed a complaint against the Israeli police on Monday, charging brutality.
"We have photos of how the police treated us when they arrested us, but it was only after they took us to the police station that they really started to beat us," says Tony Copti, who acted in the film and served as its production manager.
The Tel Aviv District Police issued a statement about the arrests: "This was an unusual incident of an assault on officers who arrived at a scene of a crime and were attacked by dozens of local residents who beat them and cursed them. Reasonable force was employed in order to keep the order and arrest suspects."
"We hope that they will investigate this and that justice will be done," Copti says. "This kind of thing happens a lot in Jaffa – there was a similar incident just two weeks ago. We had a big meeting of all the communities in Jaffa to talk about it. Everyday we have incidents with the police. We hope something will change."
---